NMSB is proud to help athletes throughout New Mexico play baseball at the next level.  Our unique style and approach sets us apart.  We aren't about just playing baseball, we are about getting players recruited to play at the next level.  See what's happening at NMSB.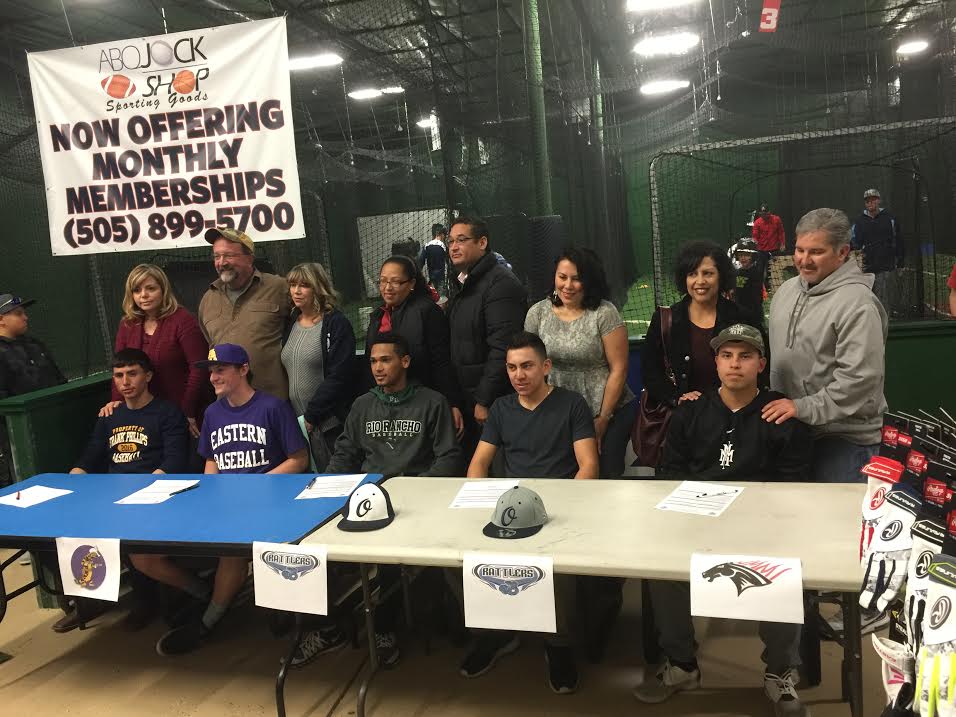 NMSB wants to congratulate the following players on their college signings:
1.  Atrisco Heritage left handed pitcher Matt Marquez (New Mexico Military Institute)
2.  Atrisco Heritage right handed pitcher/shortstop Luis Quintana (Frank Phillips JC in Texas)
3.  Rio Rancho catcher Chris Carr (Eastern Arizona
4.  Rio Rancho outfielder Willie Baez (Otero JC Colorado)
5.  Albuquerque High School infielder Pablo Herrera (Otero JC Colorado)
Congratulations to these players and their families for their hard work and dedication.  NMSB is honored to have worked with them and assisted them along this journey.
Hear What Others are Saying
We have attended the Best of the West Showcase in Tucson, AZ for the past two years. In year one the event exceeded everyone's expectations and the same can be said in year two. The college and professional exposure my players gained was by far the best of any showcase tournament we've participated in over the past four years. This event stands out because of the quality competition, excellent facilities, number of college/pro scouts in attendance, and the ability for my coaching staff to also recruit talented high school players during the event. It is one of the few events that we will ear-mark every fall to attend. The staff of the Best of the West Showcases are easy to work with and they do a great job accommodating teams from across the region. Their understanding of how college baseball recruiting works makes their showcases even better. I recommend the Best of the West Showcase to any program looking for good competition and the opportunity to get their players seen by college and professional scouts.  Chris Cook, Head Coach, New Mexico Military Institute, NJCAA I.
I have attended the Best of the West showcase the past two years. Each time I have left very impressed with all the work that has been put in to make this event a success but also with all the talent that is placed on that field. The event runs over a weekend and is really well organized. Right off the bat, the coaches from the colleges are introduced. Afterwards there is a tryout and then the remainder of the showcase is just back-to-back games. 




As a coach, I'm really satisfied that we have an opportunity to interact with the players and even give a pointer or two on their performance. Throughout the games, the players positions are moved around so you have a chance to see how they perform in different positions. There were a lot of kids with great potential who really demonstrate an interest in pursuing a college career in baseball. About 15 players caught my eye and I contacted them after the showcase.




Coach Darrell Carrillo is really involved in the entire process. He's passionate about what he does and fully dedicated to helping these young men to move forward with their baseball careers. As long as I'm coaching and as long as they'll have Otero Junior College, I look forward to attending many more Best of the West showcases in the future. 

Greg Mendoza, Assistant Baseball Coach, Otero Junior College
My son is pitching in college now and has had many coaches over the years.  For the most part he had good coaches, but James Cordova stood out as being a GREAT coach.  My son played on a team with James called the Shockers.  My son learned more about being a team player and experienced what a great baseball team was under the guidance of James Cordova.  He taught my son to be the pitcher he is today.  My son hit his first home run under this coach, threw a perfect game in high school putting into play what James taught him.  James is a coach, a friend, a mentor, a #1 guy.  Trust him to help your son or daughter become the best player they can be.  He will also instill in them good sportsmanship and they will have fun while playing the sport they love.  He is a dedicated coach who will always have a special place in my son's life and my heart. Cindy Kennedy
Hey coach James. I just wanted to tell you that I have committed to NMMI to play. I can't thank you enough for all that you have done for me coach. Without you I may not be here. From all the rides to all the coaches you call for us to play in front of I appreciate it all. I can't thank you enough for all that you have done. Thanks coach those long rides home really paid off.  Matt Marquez

I cannot begin to express in words my gratitude For what you have done for Chris And other players in the New Mexico school of baseball, I can only say thank you For believing in Chris You saw A young man That needed guidance He took it he accepted it And  never lost sight of his goal. I would like to sit down with you At some point in time  it would be my pleasure to buy you lunch. I would call you now, except for the fact I have tears in my eye's. As I'm sure you've heard Eastern Arizona Make Christopher one heck of a offer. Robert Carr
I attend the Best of the West Showcase yearly and was around at it's early conception. The event in Tucson is a well organized event that allows young players at the High School and Junior College levels to be seen and evaluated in the early stages of the Fall Season. This allows for College Coaches and ML Scouts to compile a Follow List. It can help a Player put himself on the map for both Colleges and Professional Evaluators alike. Darrell Carrillo does a great job of putting a quality program together. I have always been treated very well at this event and have heard the Player's Parents comment on the efficiency of the Showcase. It's a great place for a young Player to be seen and noticed. I wish the Best of the West Showcase continued success! Mitch Sokol; AREA SCOUT | BASEBALL OPERATIONS; Washington Nationals Baseball Club
I have had the opportunity to attend the Best of the West Showcase in Tucson, Arizona for the last two years.  As a National Cross Checker for the Colorado Rockies it allows me to evaluate players from around the 4 corners area that I would usually not get a chance to scout.  The format of high school players competing against the Jr. Colleges is an excellent opportunity for any school player to be seen by over 30 MLB scouts, several junior colleges and more than a dozen Division 1 and 2 colleges that I have seen attend this event in the last two years.  I believe the Best of the West Showcase will be one of the premier events in this area in the next couple years and would recommend it to any high school or Jr. College player to attend, if they are seeking to play at the next level of baseball.  The amount of coaches and professional scouts attending the event is worthwhile to any up-coming prospect.  Best of Luck to Best of the West.  Mike Ericson, National Crosschecker Colorado Rockies Baseball Club.